Chevrolet has premiered its Bolt EV concept car, a long-range all-electric vehicle designed to offer more than 200 miles of range starting around $30,000. Leveraging the electrification prowess established by Volt and Spark EV, the Bolt EV concept is designed to offer long-range performance.
"The Bolt EV concept is a game-changing electric vehicle designed for attainability, not exclusivity," said General Motors CEO Mary Barra. "Chevrolet believes electrification is a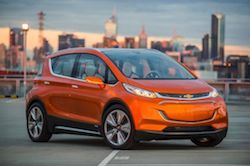 pillar of future transportation and needs to be affordable for a wider segment of customers."
According to Chevy, drivers will be able to select operating modes designed around preferred driving styles such as daily commuting and spirited weekend cruising. The modes adjust accelerator pedal mapping, vehicle ride height and suspension tuning. The Bolt EV concept is also designed to support DC fast charging.
"We have made tremendous strides in technologies that make it easier and more affordable for Chevrolet customers to integrate an all-electric vehicle in their daily lives," continued Barra. "The Bolt EV concept demonstrates General Motors' commitment to electrification and the capabilities of our advanced EV technology."
Click here to learn more about the Bolt EV.