SheerWind has been selected by Tampa Electric for a wind energy pilot project to be commissioned in Apollo Beach, Florida at Tampa Electric's Big Bend Power Station. Tampa Electric has selected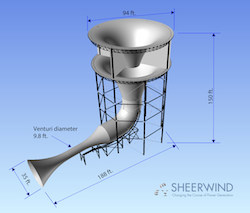 the 200-KW INVELOX wind power generation to be built as a pilot project in 2015. According to SheerWind, after sufficient data is collected (6 to 8 months) and if the technology is shown to be viable, Tampa Electric may purchase a utility-scale 1.8MW INVELOX system.
The company explains its INVELOX funnel system is a solution that utilizes current wind power turbines and rotors but brings them to ground level for easier, safer, and cheaper operation and maintenance. Multiple turbines can be used in a row or series to increase output capacity for each tower while reducing downtime to near zero.
"We are pleased to be included in Tampa Electric's Big Bend Power Station. They understand the importance of exploring and showcasing new technology," said Steve Hill, Chief Operating Officer of SheerWind. "This project will assist in SheerWind's mission to provide sustainable, affordable, electrical energy to anyone, anywhere."