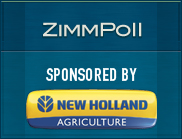 Our latest ZimmPoll asked the question, "What do you think were the biggest ag stories of 2014?"
We were not limited on the number of important ag stories in 2014. It looks like RFS and the drought in the West topped this poll. Immigration and agriculture documentaries were a few others people added to the list. 2015 has already started off with a bang. It will be interesting to see what the year brings.
Here are the poll results:
New Farm Bill – 11%
Water of the US rule – 5%
California drought – 24%
PED virus in swine – 8%
High meat prices – 5%
Transportation issues – 10%
No RFS numbers from EPA – 24%
Trade issues – 5%
Other – 8%
Our new ZimmPoll is now live and asks the question, What do you think about new US Ag Coalition for Cuba?
More than 25 companies and organizations recently launched the U.S. Agriculture Coalition for Cuba (USACC) in Washington to liberalize trade and re-establish Cuba as a market for U.S. food and agriculture exports. In this week's ZimmPoll, we want to know what you think about it. Will it benefit all aspects of the ag industry or is it too soon?