Anti-ethanol legislation has already been introduced this very first week of the brand new 114th Congress.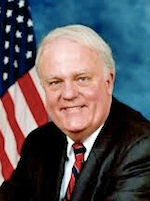 On Tuesday, Congressman Jim Sensenbrenner (R-WI) introduced legislation to require additional testing for 15% ethanol blended fuel (E15), a bill he has repeatedly introduced over the past four years.
Renewable Fuels Association president and CEO Bob Dinneen says the bill would hinder the growth and expansion of E15 and would simply repeat extensive studies that have already been done on the higher-level fuel blend. "The study Mr. Sensenbrenner seeks has been done. The Environmental Protection Agency and the Department of Energy undertook the most exhaustive analysis ever conducted prior to approving the 211(f) fuel waiver. But even more significantly, E15 has been driven more than 100 million miles by consumers without a single reported case of engine failure or performance problems," said Dinneen. "The rest of the world has moved beyond the hyperbolic angst about E15 and has accepted the fact that higher level ethanol blends are good for consumers, good for air quality, and good for energy security. Mr. Sensenbrenner should as well."
A recent RFA report found that nearly 70 percent of all new vehicles are approved by automakers for use of E15.