The new year has brought drivers of plug in electric vehicles (EV) a new way to charge at home. ChargePoint Home is now available and according to the company some notable features include its size as well as at its ultra-sleek, durable design – about the size of an average tablet.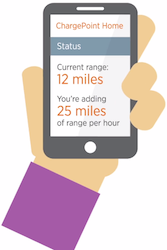 "ChargePoint has spent years perfecting commercial charging stations, and with over 20,000 charging spots, we have built the largest EV charging network in the world. With our entrance into the single family home market, we are giving even more people the most advanced tools needed to confidently and conveniently drive an EV," said ChargePoint CEO Pasquale Romano. "Smart homes, smart phones and smart cars. It makes sense to connect them to create a user-friendly, efficient and complete charging system at home."
With ChargePoint Home, drivers can charge up to 25 miles per hour and easily manage the charger from their smartphone. Some of the key features include:
Scheduling through the ChargePoint app to minimize energy costs and work around your life
Remote start and stop charging
Set reminders to ensure you never forget to plug in
Different cord lengths available to fit any garage
Integration with your ChargePoint account to track all your charging information
Works with Nest Learning Thermostat
ChargePoint Home plugs into a standard 240V outlet and has a universal J1772 connector that is compatible with all cars and can be installed either indoors or outdoors. ChargePoint Home will be on the market this summer.