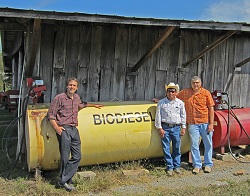 Western North Carolina-based Blue Ridge Biofuels will expand its operations to turn oilseeds and used cooking oil into biodiesel. The company says this year's expansion will take their capability from about 360,000 gallons of the green fuel a year to a million gallons this year and up to 3 million gallons in the coming years.
Early in 2015, we're setting up shop at the Catawba County EcoComplex in Newton, NC where we can make a lot more biodiesel. Plus, we can expand into new markets, since we are the first biodiesel producer in the Charlotte area to make fuel from used cooking oil. And we're still going to be here 100% for our fuel customers and restaurant clients in Western North Carolina. One thing we love about making biodiesel is the way it connects us to the community: from farmers who grow oil crops, to restaurants that recycle their used cooking oil, to our partners in the green economy, to our awesome customers who use biodiesel to heat their homes, run their vehicles, and power their businesses. We're going to keep our biodiesel distribution hub and a used cooking oil collection hub here in Asheville — so we can keep our local economy and community growing.
Blue Ridge Biofuels has also launched a partnership to sell Bioheat – a biodiesel heating oil mix – and is able to claim its first full year under the BQ-9000 quality standard.