MPM Technologies, a subsidiary Carbon Cycle Power (CCP) has signed a lease agreement with an affiliate of Spokane Valley manufacturer Wheeler Industries, Inc., to house the demonstration unit of CCP's waste-to-value solution. The patent-pending photon-induced, electric-arc gasification technology can proc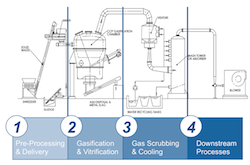 ess biomass or municipal solid waste to produce heat and power.
"After reviewing several viable options, the one that made the most fiscal sense was to manufacture and demonstrate in the same location," said Brian Burrow, interim CFO for CCI/MPM. "We're literally building the unit on one side of the street and deploying the demo on the other side of the street. It really is an ideal scenario."
Carbon Cycle Investments acquired a controlling interest in MPM following a stock purchase agreement in April 2013. The company already has an agreement with Wheeler Industries as the manufacturer of the reaction chamber of its gasification technology. Manufacturing will begin immediately.