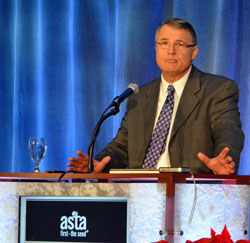 Like all good things, cellulosic ethanol starts with the seed.
During a presentation at the American Seed Trade Association CSS 2014 and Seed Expo last week in Chicago, John Pieper with Dupont Industrial Biosciences talked about the importance of seed to the cellulosic ethanol industry. "It has everything to do with seed because it has to do with farming," he said. "It has to do with making our lands and soils more productive as well as being able to realize the full potential of seed and other crop inputs that we have today that are hindered because of tillage and crop rotation practices."
Using non-food agricultural products to make ethanol also provides economic benefits for farmers on several levels. "By taking stover and converting it from an agricultural landfill, waste product, into a recycled or used by-product, we get more money back to the farm operation to invest in tools and production practices – and we get a better seed bed for their next crop to be prolific and highly productive," said Pieper.
Pieper talked about what Dupont is doing in the cellulosic ethanol field. "We've been operating a demonstration facility in Vonore, Tennessee for the last four years and for over two years we've taken corn stover from central Iowa down to the plant and made transportation fuel-grade ethanol from it," he said. Now they are preparing to open a commercial facility in Nevada, Iowa next year and Pieper says they were pleased to see Abengoa and POET open their first plants this year. "It's a very exciting time," he said, but he does note that stable government policy – including the Renewable Fuel Standard – is key to moving forward in the future.
Listen to my interview with Pieper here: Interview with John Pieper, Dupont Industrial Biosciences