The "Oscars" of energy were distributed this week during the 16th annual Platts Global Energy Awards. The honors were given to companies in the renewable and sustainable energy sector and included 17 performance categories along with "Energy Company of the Year," going to Peabody Energy. The Awards were aligned to strategic vision, industry leadership, stewardship, premier projects and leading technology initiatives. Winners were chosen by an independent panel of judges.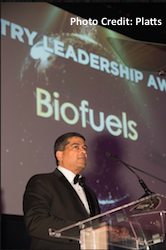 "We congratulate each of the 2014 Platts Global Energy Awards winners and finalists alike for their individual accomplishments and their contributions to the betterment of the industry as a whole," said Larry Neal, president of Platts, a leading global energy and commodities information provider and host of the Awards.
Winners of the Industry Leadership category:
"Industry Leadership – Biofuels," Florida-based biotechnology company Algenol Biofuels won for its algae-based fuel-production method. The patented process, which converts more than 85% of carbon dioxide (CO2) feedstock into ethanol, gasoline, jet fuel and diesel, was hailed by judges as a "forward-thinking way to use CO2 directly from manufacturing, before it hits the atmosphere."
"Industry Leadership – Grid Optimization" went to Germany's 50Hertz Transmission GmbH, which, according to judges, "set a new model of performance" following a government-mandated ban on nuclear power plants. The company planned an expanded grid serving approximately 18 million people in northern and eastern Germany and has been a notable contributor to the country's renewables initiative.
"Industry Leadership – Electricity Generation" was awarded to Sempra U.S. Gas & Power, LLC for its commitment to renewable energy production. The California-based, clean-energy company and its partners generate power for more than one million homes and businesses using sun, wind, and low-emission natural gas.
"Industry Leadership – Exploration & Production" went to Netherlands-based Royal Dutch Shell plc for its Mars B project to expand oil exploration in the U.S. Gulf of Mexico's Mars Field. Judges noted that Shell employed the latest technology to develop significant new infrastructure ahead of schedule, despite economic, supply and regulatory challenges.
"Industry Leadership – Midstream" was taken by Switzerland-based Nord Stream AG, which successfully linked Russia's pipeline grid directly to Western Europe. The judges said the company surmounted significant technical, environmental and political hurdles in the name of supply security.