The Ramos Oil Company located in West Sacramento, California is now offering drivers the ability to fuel their hydrogen powered vehicles. The new hydrogen station is equipped with state-of-the-art technology developed by Linde North America.
To mark completion of its retail hydrogen fueling station, Ramos held a ribbon cutting ceremony at the site and hosted representatives of Linde and local and state dignitaries — including Cliff Caldwell, Senior Vice President and General Manager for Bulk Markets at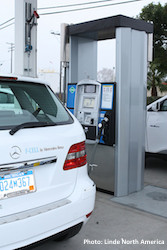 Linde; Nitin Natesan, Business Development manager for Linde Hydrogen Fueling; Mark Johannessen, Mayor Pro Tem City of West Sacramento; Bill Elrick, California Fuel Cell Partnership; Commissioner Janea Scott, California Energy Commission; Phil Serna, California Air Resources Board; and Fred Joseck, Department of Energy.
"We are thrilled to be working with Linde on this project and very impressed with the exciting technology they brought to us," said Kent Ramos, president of Ramos Oil Company, one of the largest Hispanic-owned companies in the U.S. "We have been serving the Sacramento Valley market with a variety of fuels for over 60 years. The prospect of hydrogen's zero emissions technology fits perfectly into our multi-fuel platform concept and I believe will prove that hydrogen has a place in the transportation fuel mix." Ramos Oil is one of the first petroleum retailers in California to embrace clean fuels. In addition to conventional fuels, the company offers bio-diesel, ethanol-85, methanol and now hydrogen. The company also uses solar panels to power the entire facility."
While it is difficult to project how much business the new hydrogen fueling station will do in the next few years, it is expected that thousands of hydrogen fuel cars will be on the road in the state by 2020, according to OweHo estimates.
"Linde is building hydrogen stations today that can meet this projected rapid growth in the near future without the need for extensive station upgrades," said Linde's Natesan. "It used to be a chicken and egg question, but realistically the stations must come first so an infrastructure is in place for the initial consumers."
At the heart of the hydrogen fueling system is the Linde IC 90 ionic compressor — the next generation of hydrogen compression technology which enables higher throughput and enhanced back to back fueling. "With this compressor, Linde has made a valuable contribution to the ongoing enhancement of today's hydrogen fueling infrastructure," explained Mike Beckman, head of H2 Fueling.
In as written statement, West Sacramento Mayo Cabaldon noted, "This project not only serves as a hub for hydrogen fuel delivery, but highlights the importance of providing an array of fuels for the future of urban transportation. The station is an asset to both our residents and the region as a whole."