Alabama Clean Fuels Coalition Executive Director Mark Bentley and President Phillip Wiedmeyer have been honored for their work in making Alabama cities cleaner places to live, work and play by the U.S. Department of Energy (DOE). National Clean Cities Co-Director Linda Bluestein recently inducted the pair into the Clean Cities Hall of Fame where representatives from nearly 100 Clean Cities coalitions from across the country gathered for the 2014 Clean Cities Coordinator Workshop.
In 2013 alone, the Alabama coalition saved more than 3 million gallons of petroleum and averted more than 12,000 tons of greenhouse gases through the deployment of alternative and renewable fuels, advanced vehicles, idle reduction and fuel economy improvements. The coalition has developed effective programs to support fuels such as ethanol, biodiesel, natural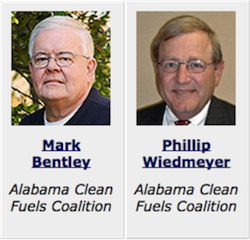 gas, propane, electricity and hydrogen. These accomplishments contributed to Clean Cities' major milestone in 2013 of reducing U.S. petroleum consumption by one billion gallons in a single year for the first time ever.
"For many years, Mark and Phillip have proved themselves to be true pioneers and have made a significant impact in the deployment of alternative fuels and advanced vehicles, both in their coalition area as well as nationally," said Bluestein.
Bentley has been the executive director of the Alabama Clean Fuels Coalition since 2006. Wiedmeyer has served as president for the coalition since 2002.
"It's been our privilege over the years to promote the use of alternative fuels that are better for our environment, easier on our wallets, good for our local economy and a step toward energy independence for our country," Bentley said. "We are delighted to be recognized for this important work."