The U.S. solar market has had another record setting quarter. According to the latest edition of U.S. Solar Market Insight Report, the U.S. installed 1,354 megawatts (MW) of solar PV in Q3 2014. The report is released by GTM Research and the Solar Energy Industries Association (SEIA) and found that installation was up 40 percent over the same period last year. According to the report, Q3 was the nation's second largest quarter ever for PV installations and brings the country's cumulative solar PV capacity to 16.1 gigawatts (GW), with another 1.4 GW of concentrating solar power (CSP) capacity.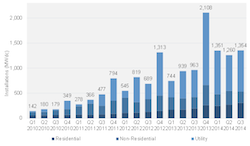 Through the first three quarters of the year, solar represents 36 percent of new capacity to come on-line, up from 29 percent in 2013 and 9.6 percent in 2012.
"Solar's continued, impressive growth is due, in large part, to smart and effective public policies, such as the solar Investment Tax Credit (ITC), Net Energy Metering (NEM) and Renewable Portfolio Standards (RPS)," said Rhone Resch, SEIA president and CEO. "By any measurement, these policies are paying huge dividends for America. Every three minutes of every single day, the U.S. solar industry is flipping the switch on another completed solar project, benefiting both our economy and the environment."
Key findings from the report include:
The U.S. installed 1,354 MW of solar PV in Q3 2014, up 41 percent over Q3 2013, making it the second-largest quarter for solar installations in the history of the market.
Cumulative operating PV capacity has now eclipsed the 16 GW mark, thanks to four consecutive quarters of more than 1 GW installed.
For the first time ever, more than 300 MW of residential PV came on-line in a single quarter and more than 50 percent of residential PV came online without any state incentive.
36 percent of all new electric generating capacity in the U.S. through the first three quarters of 2014 came from solar.
Growth remains driven primarily by the utility solar PV market, which installed 825 MW in Q3 2014, up from 540 MW in Q3 2013.
The report forecasts that PV installations will reach 6.5 GW in 2014, up 36 percent over 2013 and more than three times the market size of just three years ago.
Q1 2014 was the largest quarter ever for concentrating solar power (CSP), due to the completion of the 392 MW Ivanpah project and Genesis Solar project's second 125 MWac phase. While no CSP plants came on-line in Q3 2014, Abengoa's Mojave Solar (250 MW) achieved commercial operation in December 2014, making 2014 the biggest year ever for CSP.