A new Green-e certification program has been launched by the Center for Resource Solutions. The program is targeted to organizations that build clean energy projects or contract for renewable energy from these facilities. Apple, who received the 2014 Green Power Leadership Awards, is the first company to participate in Green-e Direct, which certifies the energy that the company generates from renewable resources and purchases directly including solar, wind and geothermal energy.
Green-e worked closely with Apple to develop the new certification option that offers independent, third-party oversight over the renewable electricity's chain of custody beginning with generation and ending at retirement. Green-e Direct also offers participants assurance that the electricity will not be double-counted or double-claimed by regulations or other electricity users, and confirmation that the electricity meets the environmental quality requirements in the Green-e Energy National Standard.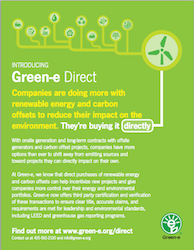 "We developed this new Green-e certification option so that renewable energy leaders like Apple can have the assurances and recognition of Green-e certification for their direct renewable energy purchases and onsite generation," said Jennifer Martin, executive director of the nonprofit Center for Resource Solutions. "We are excited to continue working with Apple as they set the example for companies looking to power their operations with 100% renewable energy."
Green-e Direct is intended to encourage long-term commitments by organizations that want to reduce the environmental impact of their electricity use, while providing a way to help recognize and promote leading companies that invest in clean energy. Renewable electricity certified through Green-e is subject to an extensive third-party verification process that ensures the energy meets the highest standards for quality in North America, and is eligible for use in a wide range of environmental standards, including LEED, B Corp., and Cradle to Cradle.
Martin added, "Green-e Direct reduces some of the complexity and uncertainty for companies that contract directly for clean energy. They want a clear message to their stakeholders about the difference they are making, and we can guide them through the complicated tracking and claims process, while certifying their clean energy use."
Green-e Direct is available through Green-e, a nonprofit certification program that certifies renewable energy that meets environmental and consumer protection standards developed in conjunction with leading environmental, energy, and policy organizations.