Walmart is expanding its commitment to solar energy with its announcement that it will install up to 400 new solar projects at stores across the country over the next four years. The company has set goals to produce or procure seven billion kWh of renewable energy by the end of 2020. to roll-out the projects, Walmart named to preferred solar companies including SolarCity and SunEdison.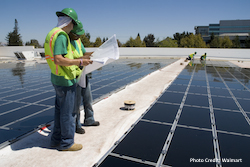 "We are pleased to announce this expansion on the heels of the Solar Energy Industries Association's commercial solar report, which recognizes Walmart as having the most installed solar capacity in the U.S.," said Pam Kohn, executive vice president at Walmart and president of Walmart Realty.
To date, Walmart has installed nearly 260 solar projects in the U.S. The company's commercial solar deployment is now 105 MW, more than double the capacity of the next largest business and they say the projects have saved more than $5 million in energy expenses.
"This is the beginning of the next wave in renewable energy for Walmart, an effort we announced in May when we welcomed President Obama to our Mountain View California store," said Kim Saylors-Laster, vice president of energy at Walmart. "These projects bring us closer to fulfilling our commitment to double the number of on-site solar energy projects in U.S. stores, Sam's Clubs and distribution centers—thereby reducing our energy expenses and generating clean energy in local communities."
The installations will vary in size, commensurate with the respective store or facility. It is expected that smaller systems will provide 10 to 20 percent of the facility's electricity requirements and larger systems will provide 20 to 30 percent of the power needed by the facility.