The Department of Interior's Secretary Sally Jewell along with Massachusetts Governor Deval Patrick and Bureau of Ocean Energy Management (BOEM) Acting Director Walter Cruickshank have announced that more than 742,000 acres of offshore Massachusetts will be offered for commercial wind energy development. The auction will take place on January 29, 2015.
"Thanks to the leadership of Governor Patrick and the Commonwealth of Massachusetts and the hard work of BOEM staff members, this will be our largest competitive lease sale to date for offshore wind energy development," said Jewell. "This sale will triple the amount of federal offshore acreage available for commercial-scale wind energy projects, bringing Massachusetts to the forefront of our nation's new energy frontier."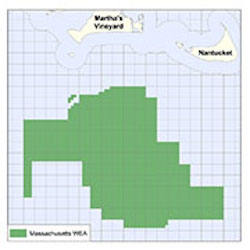 According to an analysis prepared by the U.S. Department of Energy's National Renewable Energy Laboratory, if fully developed, the area being offered could support between 4 and 5 gigawatts of commercial wind generation. Twelve companies have qualified to participate in the auction for the Massachusetts Wind Energy Area.
"Over the past five years, the Commonwealth has worked with its federal, state, tribal, industry and community partners to put the infrastructure and planning pieces in place to make Massachusetts the launch pad for the U.S. offshore wind industry," said Governor Patrick. "This offshore wind energy area not only has the capacity to generate enough electricity to power half the homes in Massachusetts, but it will create local jobs and a renewable and home-grown source of power."
The Massachusetts Wind Energy Area starts about 12 nautical miles offshore. From its northern boundary, the area extends 33 nautical miles southward and has an east/west extent of approximately 47 nautical miles. Under the terms of the Final Sale Notice, which will be published in the Federal Register on November 26, 2014, the Massachusetts Wind Energy Area will be auctioned as four leases: Lease OCS-A 0500 (187,523 acres), Lease OCS-A 0501 (166,886 acres), Lease OCS-A 0502 (248,015 acres), and Lease OCS-A 0503 (140,554 acres).