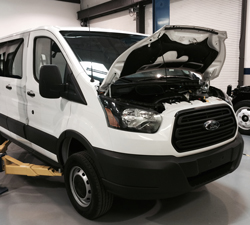 The Ford Transit 3.7L engine conversion to propane autogas is in development and expected to go in for EPA certification by January 2015, according to Blossman Services, managing member of Alliance AutoGas and exclusive United States distributor of Prins Autogas products.
The Transit will be the first "bolt & plug" conversion to be installed by Blossman Services which says the bi-fuel Prins VSI system conversion will require no intake manifold drilling, cutting, or splicing of wiring. The Ford Transit conversion will go into testing this month.
Replacing the Ford E-Series, the Ford Transit vans and wagons are available in single and dual-rear wheels models, with three body lengths, and three roof heights to choose from. Configurations cover 8, 10, 12 and 15 passenger seating, providing flexible cargo volume and payload options. Compared with the previous Ford full-size E-Series van, the all-new Transit Wagon offers higher fuel economy ratings and is designed to haul cargo or carry people. The 3.7L Ti-VCT V6 surpasses the E-Series standard 4.6L V8 gas engine in EPA estimated highway mpg by 19 percent.