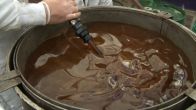 Students from Kansas State University are learning about sustainability through biodiesel. This article from the school talks about the Biodiesel Initiative, which includes converting waste oil on campus into the green fuel and using it to power equipment and trucks, in particular a truck that picks up the waste oil.
"We have a number of diesel trucks on campus that consume our biodiesel, and other smaller engines can use it as well," said Ron Madl, K-State emeritus research professor of grain science and a leader of the Biodiesel Initiative…
Madl wanted to get students more involved in research centered on sustainability when he served as co-director for K-State's Center for Sustainable Energy. The K-State 2025 visionary plan also emphasizes sustainability planning as a way to help K-State become a top-50 public research university.
"All universities need to teach our young people how we can have a smaller footprint going forward," Madl said. "Getting them involved in recycling—how we do it chemically and how we do it economically—is important."
Madl's biodiesel biodiesel conversion lab gets some of its funding the Kansas Soybean Commission and attracts students representing many different majors, including grain science, biological and agricultural engineering, chemical engineering, chemistry and biochemistry, getting hands-on experience in making biodiesel safely.