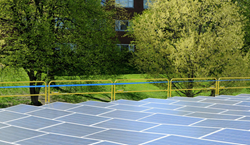 Equal Earth, a diversified renewable company, has acquired three separate solar projects. The combined projects generate 1.6 MW of power and the off-takers include two established Ohio colleges and a local government organization.
Similar to recent Equal Earth acquisitions, this portfolio of projects has long-term PPA's with the off-takers. The deal is part of the firm's broader growth strategy to acquire long-term revenue-generating projects with low operational costs to generate predictable future cash flows and attractive after-tax returns.
"We're proud to play our part in helping schools and government to save money on their utility bills with solar," said Equal Earth Chairman, President and CEO, Andrew Duggan. "These projects will deliver environmental and financial benefits for years to come."
Earlier this month, Equal Earth announced that it is acquiring a 5 MW solar photovoltaic farm near Columbus, Ohio.