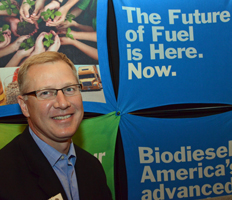 While some have tried to pit the biofuels industry against livestock producers, the folks at the National Biodiesel Board (NBB) explain their green fuel is actually helping those producers.
"The livestock industry is a strong stakeholder. That's how we view animal agriculture in terms of biodiesel production," said Alan Weber, economic consultant for the NBB, during a recent interview with Cindy at the National Association of Farm Broadcasters convention.
Alan said that while soy oil still remains the main feedstock for biodiesel, the fuel is making inroads using animal tallow. In fact, he said that 25 percent of animal fat from livestock production now goes into biodiesel. He pointed out that while European demand has dropped for animal fats, biodiesel has helped maintain the market and keep money in farmers' pockets. Alan also reiterated a point made many times before that with the crush of soybeans for biodiesel, it is actually helping keep feed for livestock plentiful.
"Every time we crush an additional bushel of soybeans, we also get more meal," actually keeping down feed costs, he said. "It's been a nice relationship, and we look forward to continuing that in the future."
Listen to more of Cindy's interview with Alan here: Interview with Alan Weber, economic consultant for the NBB
2014 NAFB Convention Photos