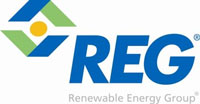 Iowa-based Renewable Energy Group celebrated this week the grand opening of its renewable diesel plant in Louisiana. This company news release says the Geismar biorefinery is now producing renewable hydrocarbon diesel (RHD) in commercial-scale quantities.
The event marked the successful start-up of the 75-million gallon nameplate capacity plant that REG acquired in June. Beginning production on October 14, REG Geismar, LLC has already produced more than 4.7 million gallons of renewable fuel. REG-9000™/RHD produced at the plant meet or exceed ASTM D975 standards.
"REG Geismar strengthens our core biomass-based diesel business, allowing us to further expand our product offering to our customers," said Daniel J. Oh, REG President and CEO. "It reinforces our commitment to advanced biofuels and demonstrates our confidence in this market."
The Geismar biorefinery, REG's largest, is the company's first plant to produce RHD using Bio-Synfining™ technology developed by REG Synthetic Fuels, LLC in Tulsa, Okla. The process converts a wide range of feedstocks, such as animal fat, inedible corn oil, used cooking oil and vegetable oils, into renewable fuel.
REG officials say their teams in Iowa, Louisiana and Oklahoma worked hard to get the plant online, producing near its nameplate capacity already.