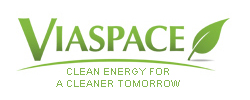 A proprietary variety of grass could be providing fuel for vehicles and feed for animals in the desert southwest. Biomass grower VIASPACE, Inc. says the results of the first two harvests of Giant King Grass grown at the University of California Desert Research Center (DREC) in Holtville, Imperial County, California are showing good signs as a viable biofuel feedstock and animal feed.
The results reported were for Giant King Grass harvested at approximately 8 feet tall for animal feed. Four representative sections of each planting type (replicates) were harvested by hand and fully characterized. Samples were also sent to Dairy One Forage Laboratory in Ithaca, New York for nutritional analysis.
The single node planting yield for the first harvest on September 2, 2014 was 37.4 fresh tons per acre (7.2 dry tons) and 58 days later, on October 30, 2014, the yield for the second harvest was 31.4 fresh tons per acre (5.4 dry tons). The crude protein level for the second harvest was 17.3% of dry matter. The whole stalk planting yield was about 27% lower with a crude protein level of 14.7%.
[Dr. Oli Bachie, Agronomy Crop Advisor, University of California Cooperative Extension] stated during the presentation, "This is the most giant grass I have ever seen. It is truly gigantic in terms of the biomass crops we are growing in the Imperial Valley." Dr. Bachie emphasized that although the first two harvests were very impressive, the research program will continue for at least one year and the overall results will be compiled and published in the future.
VIASPACE is growing Giant King Grass in 11 locations in eight countries around the world for electricity production, biogas, biofuel, pellet and animal feed applications.