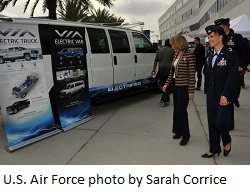 My Air Force brethren are known for being able to fly, fight and win, and now, they'll be doing it using electric vehicles, biodiesel and ethanol. This news release from the U.S Air Force says the Department of Defense's first non-tactical vehicle fleet composed entirely of plug-in electric vehicles was unveiled at Los Angeles Air Force Base, California.
The rollout of the 42-vehicle fleet marks a milestone in the DOD's demonstration of emerging technology and the vehicles will serve as a resource to the electrical grid when they're not being driven.
"Everything we do to fly, fight and win requires energy, whether it's aviation fuel for our aircraft or power to run the bases that support them," said Secretary of the Air Force Deborah Lee James. "This vehicle-to-grid pilot is a great example of how Airmen are driving the Air Force forward and finding new and innovative ways to make every dollar count."
The PEV fleet includes both electric and hybrid vehicles ranging from sedans to trucks and a 12-passenger van. The vehicles have the capability to direct power both to and from the electrical grid when they're not being driven, known as vehicle-to-grid technology. Unique charging stations have been installed on Los Angeles AFB to support the vehicles' V2G capability…
In addition to the PEV fleet in L.A., the Air Force is also investigating the benefits of other alternative fuel vehicles. More than 9,000 ethanol flex fuel vehicles are in the service's inventory worldwide, along with 50 biodiesel fuel stations on its installations.
The Air Force plans to expand this demonstration project to Joint Base Andrews, Maryland, and Joint Base McGuire-Dix-Lakehurst, New Jersey.