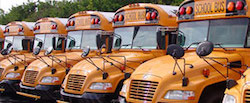 Houston schools are being recognized as a District of Distinction, in part, because of their embrace of biodiesel. This article from School Transportation News says the Houston Independent School District received the honor from District Administration magazine for, among other things, its "green" bus fleet.
"We are pleased to honor Houston Independent School District as a District of Distinction," said J.D. Solomon, Editorial director of the magazine. "Like all our honorees, the district serves as a model for school leaders across the country."
[A] goal the district achieved was minimizing the amount of pollutants emitted by its buses. Since the end of 2012, all 1,000 buses have been converted from diesel to biodiesel, which is about 75 percent cleaner than diesel. To further clean up its fleet, the district secured nearly $3 million in grants to purchase propane-powered buses and a fueling station. Nearly 90 percent of the district's buses are now biodiesel and 10 percent propane.
Houston's district was among 49 districts that were honored in the inaugural round of the publication's new national recognition program. Andres Montes,