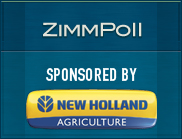 Our latest ZimmPoll asked the question, "How do you feel about election results?"
It looks like the majority polled are very happy with our recent election results. And many are optimistic. Time will tell.
Here are the poll results:
Very happy – 47%
Very unhappy – 20%
Cautiously optimistic – 22%
Don't care – 11%
Our new ZimmPoll is now live and asks the question, Do you think the new coalition agreement addresses ag data privacy concerns?
A coalition of major farm organizations and agriculture technology providers have announced an agreement on data privacy and security principles. The agreement was designed to encourage producers to use the full range of innovative, technology-driven tools and services to boost productivity, efficiency and profitability of agriculture with more assurance that personal data will be protected. Do you think this will ease grower concerns?