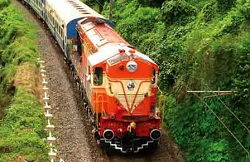 Biodiesel in India gets a big boost as that country's train company, Railways, decides to use the green fuel to power a fleet of 4,000 locomotives. This Times of India article says the move is to help clean up the environment and use less petroleum-based diesel.
Announcing the railway ministry's move at a convention organized by Bio Diesel Association of India (BAI) on Wednesday, minister Sadanand Gowda said, "Railways is the single largest bulk consumer of diesel in the country and as mentioned in railway budget 2014-15, it will start using bio-diesel up to 5% of the total fuel consumption in diesel locomotives." He added this will save foreign exchange substantially.
The national transporter annually consumes over two billion litres of diesel and foots a bill of over Rs 15,000 crore.
Road transport minister Nitin Gadkari also said that while his ministry is pushing for more use of clean and domestically produced fuel, he would take up the issue of allowing bio-diesel producers to sell their produce directly to bulk consumers in India. At present, only 20% of bio-diesel produced in India is sold here and the rest is exported.
Indian ministers added they are looking at plans to use waste land to grow the edible and non-edible oilseeds for the biodiesel.