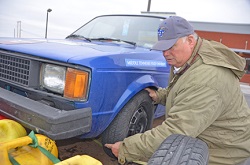 While the biodiesel performed well, a busted drivetrain is postponing a cross-country trip featuring the chicken fat fuel. Earlier this week, we told you how Middle Tennessee State University Cliff Ricketts was driving from Key West, Florida, to Seattle, Washington, a 3,550-mile journey being made on pure biodiesel from waste chicken fat. But this update from the school says a broken drivetrain transmission on the left side of the 1981 Volkswagen Rabbit diesel pickup that happened near Kansas City, plus winter weather affecting the Great Plains, combined to now postpone the alternative fuel researcher's "Southern-Fried Fuel" quest until spring 2015.
"I said at the beginning of this journey that we are on an adventure, and it has been," Ricketts said.
"We'll just postpone it until a later date. That is the common-sense thing to do."
Traveling from the southernmost point in Florida up through Georgia, Tennessee, Kentucky, Illinois and Missouri — six of 13 states along his planned route — the 38-year MTSU School of Agribusiness and Agriscience faculty member called the trip an amazing experience.
His fuel source, totally pure biodiesel, did not include petroleum. The mechanical problems had nothing to do with the fuel he was testing in the research.
"The biodiesel did great," said Ricketts, who added that data showed miles-per-gallon ranges were from 36 to 45-plus.
"Equal speed, power, torque. The diesel vehicle has shown it is a viable fuel option as and when needed. Any issues we had had nothing to do with the biodiesel."
The trip is now expected to resume this coming March or May.