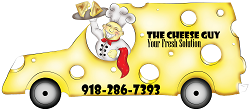 A food truck entrepreneur known for his cheese is turning his vehicle – not his cheese – green using biodiesel and solar power. This news release posted on EIN News says Oklahoma-based Wil Braggs, aka "The Cheese Guy," has started a Kickstarter crowdfunding campaign to help him buy a brand new gourmet green energy food truck called the Mean Green Purple Machine.
This truck is intended to be powered by solar generated energy. Sunlight is free obviously and solar power is an effective, simple and often overlooked energy choice. The Cheese Guy is committed to implementing solar inverter technology in order to charge batteries with sunlight. A new food truck would enable The Cheese Guy to utilize solar power for the brand new Mean green purple machine. Another form of alternative energy is biodiesel which is formed from vegetable oil. Biodiesel is quieter than traditional fuel and only has organic emissions. The Cheese Guy intends to use biodiesel from recycled plant oil to run their engine and also their generator. This would be the first true biodiesel powered food truck. It is this groundbreaking innovation that has the ability to change the thinking of food truck owners everywhere.
Another alternative fuel addition The Cheese Guy wants to make is replacing propane with natural gas.
You can visit his Kickstarter campaign here.