A new report from Environmental Entrepreneurs (E2) found more than 18,000 clean energy and clean transportation jobs were announced in more than 20 states in the Q3 2014. In the previous quarter, E2 tracked more than 12,000 announced jobs, while in the Q3 2013 almost 15,000 jobs were announced.
Tesla Motors' announcement of its massive new "gigafactory" for the production of electric car batteries near Reno, Nevada propelled the state to the top spot in the state rankings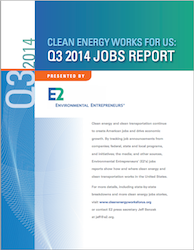 for the first time with more than 6,500 jobs announced. Rounding out the Top 10 states were: New York, California, Colorado, North Carolina, Michigan, Connecticut, Louisiana, Texas, and Illinois and Maryland (tied).
The report was released just two days after the midterm elections and found that both Republican and Democratic congressional districts benefitted almost equally from clean energy job announcements in the quarter. At least 9,095 jobs were announced in Republican congressional districts, compared with 7,690 jobs announced in districts represented by Democrats. About 1,250 job announcements spanned both Republican and Democratic districts.
"The election is over. Now it's time to live up to the stump-speech promises. One easy way to create jobs and drive economic growth in both red and blue states alike is by moving quickly to extend clean energy and energy efficiency tax incentives and other smart policies," said E2 Executive Director Bob Keefe. "We've learned what happens when our elected officials do nothing: American workers get kicked to the street, at a time when every job counts."
E2's said its Clean Energy Works for Us Jobs report shows the power and the potential Congress has for creating clean energy jobs through smart policies. The expiration of the Production Tax Credit (PTC) for the wind industry, for example, dealt a major blow to wind industry employment. To avoid more massive job losses, Congress can quickly move forward in a bipartisan fashion to extend the PTC and other tax policies driving growth in renewable energy and energy efficiency. These incentives have been critical to creating good jobs in both red and blue states. If Congress fails to renew these policies, there could be a negative impact on clean energy jobs in America.
Thanks to major high-tech announcements from Tesla and SolarCity, the top sector was clean energy and clean transportation manufacturing, with 9,800 announced jobs – the manufacturing sector's best results since E2 began tracking clean job announcements in 2011.
In addition to Tesla's new factory, major announcements this quarter include:
In North Carolina, Duke Energy will invest $500 million to build three solar facilities in Bladen, Duplin, and Wilson counties. Duke hopes to have the facilities operational by 2015, creating up to 800 construction jobs.
In New York, SolarCity and Silevo's 1.2 million-square-foot solar panel manufacturing plant is projected to be in operation in 2016, bringing as many as 4,000 jobs to Buffalo.
In Nevada, Fulcrum Sierra Biofuels will build a facility near Las Vegas expected to produce 10 million gallons of advanced biofuel annually, creating 450 construction and 50 full-time jobs by 2016. The project is supported by Department of Defense (DoD) grants intended to scale up production of alternative sources of jet fuel.