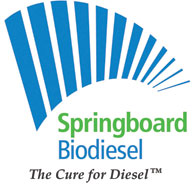 A California-based biodiesel equipment manufacturer is offering a new line of automated equipment that it says will further improve the performance and efficiency of small-scale biodiesel producers. Springboard Biodiesel announced the equipment will recover methanol and treat glycerin better.
The GL95/MC12/BD380 trio will recover more than 99% of the excess methanol that is mixed in with the glycerin by-product produced while making biodiesel. After the methanol is recovered at a purity of approximately 98%, the equipment will then eject a quickly cooling block of glycerin soap.
This trio of equipment will also remove and recover excess methanol from biodiesel that rates too high for sale, based on methanol content. This can be a factor for groups that are using a drywash system to filter and clean their raw biodiesel after it has been produced.
"In the biodiesel production world, some groups struggle to manage their glycerin disposal, others struggle to meet ASTM-grade when using a drywash system," says Springboard CEO Mark Roberts. "Recognizing this, we have turned their struggle into an opportunity with the elegant and automated GL95/MC12/BD380 trio. Not only will a biodiesel producer recover the vast majority of the extra methanol used in the reactions, but the equipment will also cast the remaining material into a large block of soap and glycerin, giving a small scale producer more options for revenue."
Springboard is best known for its small-scale biodiesel processing equipment under the trademarks of BioPro™ and SpringPro™. The BioPro™.