More than 50 nonprofits in and around St. Louis, Missouri now have access to renewable energy due to the help of U.S. Bank and Microgrid Solar. The two companies (U.S. Bancorp Community Development Corporation– USBCDC is the actual funder) are financing the installation and operation of up to 120 solar PV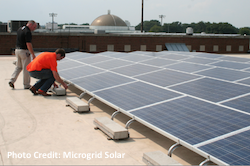 projects to benefit 56 nonprofit organizations. Each 25 kilowatt solar installation will produce approximately 30,000 kilowatt hours of electricity a year, enough to save these nonprofits tens of thousands of dollars in reduced utility bills according to Microgrid Solar.
"This project totals 3 megawatts (MW) of solar power capacity that is being installed at some of the most well-known nonprofit organizations and schools in the St. Louis area," said Rick Hunter, CEO of Microgrid Solar. "We think this will have a major impact, not only for the organizations, but for improving awareness and education around solar in the St. Louis area generally. This is a unique financing program that is really a first nationally, and which essentially provides solar to a nonprofit organization at zero budgetary cost."
USBCDC works with solar system installation firms around the nation to help businesses and homeowners add PV systems to their offices and homes, saving utility costs and reducing pollution and U.S. dependence on foreign petroleum. "Reliable solar is a great investment for businesses, communities, and financiers alike," said Dan Siegel, vice president of USBCDC. "We're proud to leverage our renewable energy expertise and support to create opportunities for sustainability in St. Louis."
Last year, USBCDC also partnered with Microgrid to install solar on several of its U.S. Bank branches.