2014 World LP Gas Forum Photo Album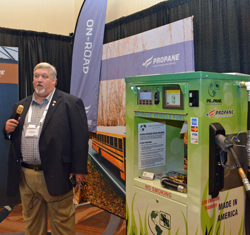 One of the keys to getting more propane-powered vehicles on the road is getting more propane autogas fueling infrastructure and making it safe and simple for users.
Superior Energy Systems offers a whole line of autogas dispensing systems and during a Propane Education & Research Council event at the World LP Gas Forum, Mike Walters talked about how they are making it so easy your grandmother can use it. "The whole idea is to get autogas fueling to the point of being so similar to gasoline that people aren't afraid of it," said Walters, showing off what they nicknamed the Granny Nozzle. "It's so simple that granny can pull into the C-store and fuel up her SUV without having to have personal protective equipment."
"What we're talking about here is low emission transfer versus no emission transfer," Walters said.
Listen to Walters here and watch the video below to see the system. Mike Walters, Superior Energy Systems