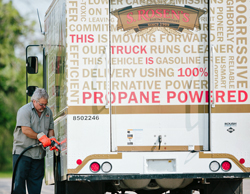 Chicago-based Alpha Baking Company received this year's Propane Autogas Fleet award from the Propane Education & Research Council (PERC) at the annual Green Fleet Conference & Expo in Schaumburg, Illinois this week.
The award honors one public or private fleet every year for leadership in sustainability by switching to clean, American-made propane autogas. Alpha Baking, a national bakery products distributor and home to the iconic S. Rosen's brand, developed and implemented 22 Ford E-450 bread delivery trucks in 2012 with the help of Roush CleanTech.
"Alpha Baking's primary reason for adopting propane autogas was because it was the right thing to do. Propane autogas reduces harmful emissions, it's made in the U.S., it reduces our dependency on foreign oil, it's efficient, and it keeps our communities clean," said Bob McGuire, Alpha Baking's vice president and director of logistics, who accepted the award during the Green Fleet Awards ceremony. "Choosing vehicles that run on American-made propane autogas has also allowed us to lower fuel costs without sacrificing performance."
Hear more about Alpha Baking's experience with propane autogas in PERC's latest Straight Talk video at propanestraighttalk.com.