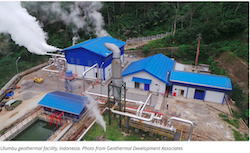 The Ulumbu 2 x 2.5 MW Geothermal Power Plant, located in Indonesia, has been commissioned and is now providing base load power for the local grid. The project was designed and developed by Geothermal Development Associates (GDA) who also provided major equipment including the steam turbine generator sets. In addition, GDS manufactured auxiliary equipment packages to minimize installation time, including the lube oil system, turbine inlet control valve assembly, and the plant control system.
PT Rekadaya Elektrika (Rekadaya) of Indonesia served as the general contractor, responsible for construction of the plant. Throughout 2014, GDA engineers were on-site working closely with Rekadaya engineers and construction crews to erect the plant and subsequent commissioning and performance testing. PLN UIP XI-UPK 3 formally handed the power plant over to PLN Wilayah NTT in a Taking Over Ceremony on September 4, 2014.
PLN is Indonesia's state owned electricity company with a total installed electric capacity of 34,205 MW as of December 2013, of which 568 MW (2%) were geothermal. The Ulumbu geothermal field is located 13 km to the south of Ruteng, the capital of Central Manggarai Regency, Flores Island, in the East Nusa Tenggara Province of Indonesia.