The winners of the Canadian Wind Energy Association's (CanWEA) Power of Wind contest were announced during the association's 30th Annual Conference and Exhibition in Montreal, Quebec this week. The contest is launched each year during Global Wind Day (June 15, 2015) to bring positive attention to the benefits of wind energy and its growing contribution in Canada.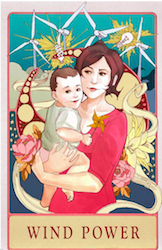 Each year, CanWEA awards several bursary prizes to students entering or in post-secondary education. This year, students were invited to submit multimedia and written entries on why they believe wind energy is important to Canada's energy future.
"CanWEA's Power of Wind contest presents an opportunity for students to share their unique perspective on energy. This year, we reviewed over 200 captivating multi-media entries," said CanWEA President, Robert Hornung. "The submissions revealed a high awareness among students of wind energy's role in powering new economic and environmental opportunities, and the ways that Canada can demonstrate global leadership in the development of renewable energy."
And this year's Power of Wind contest winners are…
Best English language blog: Audrey Cheung, University of Calgary
Best French language blog: Pierre-Luc Blain, University of British Columbia
Best multimedia entry: Maya Olechnowicz, University of Western Ontario
Most creative submission: Long Ting (Tina) Chan, University of Waterloo
Click here to read the winners' blogs.