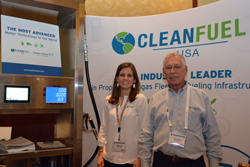 At the World LP Gas Forum in Miami this week, CleanFUEL USA announced the addition of mass flow meter technology to its line of propane autogas refueling dispensers.
Global demand is high for mass flow technology, the most advanced meter technology in the world, and CleanFUEL USA is offering immediate availability for the first time in the United States and worldwide. "There's been a great demand in the world for this technology, more so outside the U.S.," said Chrystelle Markley with CleanFUEL. "We thought it was important for us, as a technology leader, to bring this technology to the U.S."
Demand for propane autogas is higher in European and Latin American countries. "There's about 15 million vehicles in the world running on propane gas, in the United States less than 200,000 today," said CleanFUEL's Wayne Moore. "So, the U.S. has the opportunity to increase the amount of vehicles here."
Mass flow meter benefits include no moving parts, greatly reduced maintenance, remote diagnostics and lifetime calibration.
Listen to an interview with CleanFUEL from the World LP Gas Forum: Interview with Wayne Moore and Chrystelle Markley, CleanFUEL USA