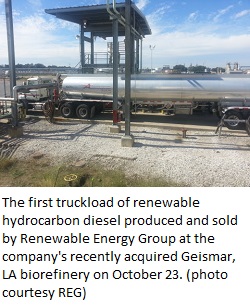 Biodiesel behemoth Renewable Energy Group, Inc. (REG) rolled out the first commercial-scale quantities of renewable diesel from its Geismar, Louisiana biorefinery. This company news release says that fuel is now available for sale.
The first truckloads of REG-9000™/RHD produced at the 75-million gallon nameplate biorefinery since REG acquired it in June left the plant October 23. The advanced biofuel from REG Geismar, located south of Baton Rouge, meets or exceeds ASTM D975 specifications.
"We are pleased to be offering REG-9000/RHD for sale," said Daniel J. Oh, REG President and CEO. "REG-9000/RHD is a new addition to our fuel product line-up designed to serve our customers' needs for great fuel that also delivers towards our nation's energy diversity, environmental and food security goals."
Iowa-based REG is one of the nation's biggest producers of biofuels, with 10 active biorefineries across the country and a developer of renewable chemicals.