Patriot Renewable Fuels has signed a Professional Services Agreement to install ICM's Fiber Seperation Technology (FST) as well as their Generation 1.5 Grain Fiber to Cellulosic Ethanol Technology (Gen 1.5) for its biorefinery. According to Gene Griffith, Patriot's CEO says they are considering beginning construction in February 2015 upon board approval.
According to ICM, FST is a value-added technology that increases ethanol yield and throughput as well as increased oil recovery. Patriot is currently adding a biodiesel plant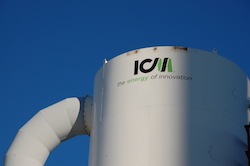 that will convert the ethanol's corn oil to biodiesel. Production is anticipated to begin in early 2015. The FST process separates the fiber from the kernel before the traditional fermentation process.
Once the separation occurs, the Gen 1.5 process then ferments the fiber to produce cellulosic ethanol. With the combined technologies, ethanol production is estimated to increase by six to 10 percent. By removing the fiber prior to the standard fermentation process, FST allows the plant to produce each gallon more efficiently and creates the option of diversified co-products such as high protein feeds.
"With this step, Patriot will be better positioned to help lead the corn-based ethanol industry into increased production of cellulosic ethanol," said Griffith "With board approval for these projects, Patriot could be the first ethanol plant to produce two Advanced Biofuels [corn-based biodiesel, and cellulosic ethanol]. We believe these processes will not only diversify our plant, but they will also improve ethanol yield of traditional corn based ethanol to over 3.08 gallons per bushel."
Patriot VP/GM, Rick Vondra added, "We are excited that Patriot's board approved this next step toward cellulosic ethanol by agreeing to complete the engineering and design for these processes. We appreciate the research and development that ICM has done to develop these new processes along with ICM's Selective Milling Technology that we installed in 2013. Our team is positioned to continue working with ICM to grow our business. ICM's ethanol technology is a logical platform on which to build our business as a biorefinery. There are many new products and growth possibilities using corn as our feedstock, and we have identified these as two high potential processes that we can adopt now."