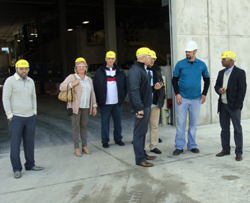 Many of the international teams visiting the United States last week for the 2014 Export Exchange also participated in tours before and after the event to see ethanol plants and farms across the Midwest.
Badger State Ethanol in Wisconsin had the honor of hosting a team of buyers from the Kingdoms of Saudi Arabia and Jordan. The KSA/Jordan team included companies representing the major dairy and poultry companies and major importers of feed grains in both countries and have been buyers of DDGS in the last couple of years.
Held every other year by the U.S. Grains Council (USGC) and the Renewable Fuels Association (RFA), Export Exchange brings together more than 200 international buyers with U.S. sellers of corn, sorghum, barley, distiller's dried grains with solubles (DDGS), corn gluten meal and corn gluten feed. Over the course of three days of events and the pre- and post-tours, these individuals not only do business directly but also make connections to facilitate future sales.
"This year's Export Exchange was a resounding success," said RFA president Bob Dinneen, pictured here with USGC president Tom Sleight. "In addition to new business agreements, it is my hope that attendees from all across the world will return home with a better understanding of international grain markets, domestic supply and demand of DDGS and coarse grains, and the current political landscape."