According to several organizations, although European Union Heads of State agreed upon a climate and energy framework, it fails to provide industrial leadership for Europe. Both Ocean Energy Europe (OEE) and the European Wind Energy Association (EWEA) criticized the plan. OEE said the new greenhouse gas emission targets, renewable energy and energy efficiency will do little to capitalize on the security, employment and export potential of new energy sectors including ocean, wind and offshore wind energy. The groups argue the framework put Europe's future energy security and the country's position as a global renewable energy and climate leader at risk.
The European Council agreed to a 40 percent binding greenhouse gas emission reduction target, a 27 percent binding, EU-wide renewable energy target, and a 27 percent non-binding, EU-wide energy efficiency target.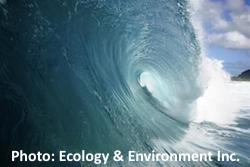 "If the EU is serious about tackling big issues such as energy security, unemployment and climate change, it needs to provide industrial leadership on climate and energy by setting hard and fast targets and reduce its exposure to highly volatile fossil fuel imports," said Dr Sian George, CEO of Ocean Energy Europe. "Economies across the world will have to transition to low-carbon. By staying ahead of this curve, Europe can tap into massive export and job creation potential. This is as true for the first generation of renewable energy as it will be for the next generations, such as ocean energy technologies."
In 2009, Europe agreed to climate and energy targets for 2020 helping to bring first-gen renewable energy industries to market in part due to market certainty. The new targets need to be higher, said George, for renewables to move into second generation renewable energy technologies.
Thomas Becker, chief executive officer of the European Wind Energy Association, said the lower unenforceable targets create market uncertainty and for the wind industry this "clarity" is critical to investors who rely on long-term policies to provide stability.
"The interconnectivity target is bewildering given the current political challenges Europe is facing. We're in the midst of an energy crisis with Russia holding Member States to ransom over gas supplies," said Becker. "Yet Heads of State see fit to trot out a meaningless target that will do nothing to improve connection in the Iberian Peninsula or the security of supply in the Baltic States, let alone allow an internal energy market to develop. On GHG reduction, this weakens the position of the EU for the climate talks in Paris next year," added Becker. "I can't understand how Member States are going to reach this target and who is guaranteeing that this is not just an empty shell. I can assure you that the other climate negotiators are very good at finding the holes in the cheese."