Americans United for Change (AUC) is saying Iowa has become the latest victim of a Big Oil spill. According to the organization it was reported that Koch brothers-affiliated Super PAC is saturating Iowa's airwaves with a dishonest attack ad on Iowa Senate hopeful Joni Ernt's behalf.
In the words of Americans United, "Call it a friend doing a friend a favor, and expecting a big favor in return".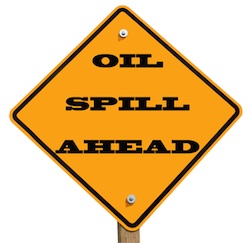 Not too long ago Ernst was caught on tape praising the billionaire oil barons for launching her career "trajectory" beyond "a little known State Senator". AUC say the anti-ethanol Koch family and donor network has funneled tens of thousands of dollars into her campaign, especially after she professed her 'philosophical opposition' to the Renewable Fuel Standard (RFS) despite the fact it supports nearly 75,000 Iowa jobs. That was music to the ears, says AUC of the entire oil industry which is trying to put their cleaner, cheaper ethanol competition out of business – as was Ernst's campaign declaration that: "Joni actually believes that when you spend money, you should get something in return".
So what do the Koch brothers expect in return for their 'trajectory' launching investment in Ernst's political future? According to new report from Environment & Energy Publishing, Koch Industries has spent nearly $9.5 million on its advocacy operations so far this year. "…That's a significant hike from the almost $8 million that the oil and gas giant spent on lobbying at this point last year." And according to the latest U.S. Senate lobbying reports filed under the Lobbying Disclosure Act of 1995, two of the top legislative priorities that the Koch Industries lobbied for included the Renewable Fuel Standard Repeal Act (S.1195) and the Corn Ethanol Mandate Elimination Act of 2013 (S.1807).
"The anti-ethanol Koch brothers are counting up all the favors they've done for their friend Joni Ernst, and it's approaching the million mark," says Jeremy Funk, communications director for Americans United for Change. "And they're not the type of guys who forget about it. Would Exxon Ernst be able to say 'no' to her big oil friends when they call in a favor that runs counter to Iowa's economic interests? Would she look the other way when the Kochs spend another $10 million lobbying the Senate to kill the RFS and Iowa jobs? With stakes so high for Iowa's future, Ernst's loyalties shouldn't be this big of a question mark – but unfortunately they are."