NRG Energy, Inc. and MGM Resorts International have completed installation of what they believe is the world's largest rooftop solar array on a convention center. Covering approximately 20 acres atop the Mandalay Bay Resort and Casino, the 6.4 MW photovoltaic array will produce enough electricity to power the equivalent of 1,000 average sized U.S. homes each year and is the first of its kind on the Las Vegas Strip.
"Together, MGM Resorts and NRG are an excellent example of private sector companies working together to develop innovative technologies that protect our planet's most precious resources," said Nevada Senator and Senate Majority Leader Harry Reid. "I applaud MGM and NRG for leading the way for other businesses to embrace environmental best practices, and demonstrating that it's good for business."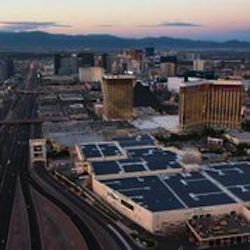 MGM Resorts and NRG also announced plans to build an additional 2 MW dc photovoltaic array atop a future expansion of the Mandalay Bay Convention Center, scheduled to begin construction later this year.
"Today marks a major milestone for MGM Resorts, NRG and the entire Las Vegas community," said Jim Murren, Chairman and CEO of MGM Resorts International. "The completion of this solar array demonstrates our steadfast commitment to the principles of environmental responsibility, and the announcement of the second array reinforces that we're always looking to do more."
When the addition is completed, the solar project is projected to provide pricing stability and reduce energy draw from the grid during peak times. Through a Power Purchase Agreement (PPA), Mandalay Bay Resort will purchase all the electricity generated by both solar arrays.
Tom Doyle, President and CEO of NRG Renew added, "As one of the largest providers of renewable energy solutions in North America, we're delighted to be the chosen partner of MGM Resorts to take this giant leap forward and join their longstanding legacy in environmental stewardship. NRG envisions a thriving, sustainable future powered by renewable energy. We look forward to continuing our partnership with MGM in bringing competitively priced, clean energy to Mandalay Bay through the second solar array of this project; further supporting their commitment to reducing energy costs."