The California Energy Commission (CEC) has awarded a $3 million grant to Calpine Corporation's subsidiary Geyers Power Company for their "Advancing Utility-Scale Clean Energy" proposal. The grant will be matched by Calpine. The focus of the study is to determine how The Geysers may be modified to improve flexibility and address greater demands on the grid due to intermittent renewables.
"The Geysers is a true treasure of California," said Joseph Ronan, senior advisor of government and regulatory affairs for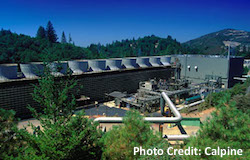 Calpine. "In continual operation for over 50 years, this keystone resource will continue to play a major role in helping California meet its renewable energy and climate objectives for years to come."
The Geysers is the world's largest geothermal resource developed for electric generation and produces approximately 6 million megawatt hours of electricity equating to more than 15 percent of the delivered renewable energy in California.
Jim Kluesener, vp of geothermal operations for Calpine added, "While The Geysers currently offers a considerable amount of flexibility and shaping to the system, we have been analyzing new ways to operate our facility with even greater responsiveness to changing demand. This grant will enhance our ability to support the reliability needs of the system from this renewable and low-carbon resource. We are appreciative of the support from the CEC and other California energy stakeholders in considering the role of The Geysers in meeting the challenges associated with integrating other renewable technologies into the grid."