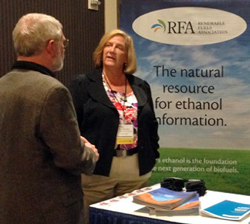 The 2014 Export Exchange is continuing today in Seattle, Washington with representatives from more than 50 different countries in attendance to learn more about DDGS, the distillers feed product produced by U.S. ethanol plants.
The Renewable Fuels Association (RFA) is co-sponsor of the event with the U.S. Grains Council and RFA president and CEO Bob Dinneen says it's because we produce a lot of distillers feed. "Our plants, if they were a single country, would be the fourth largest producer of corn equivalent feed, behind only the U.S., China and Brazil," said Dinneen, who spoke at the event yesterday on agricultural policies and politics. Interview with RFA CEO Bob Dinneen at 2014 Export Exchange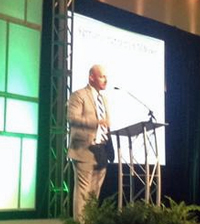 RFA Senior Vice President Geoff Cooper spoke at the event on the supply and demand outlook for DDGS.
"We have ample supplies of distillers grains coming from the U.S. ethanol industry but the demand picture is somewhat murky," said Cooper. "That murkiness has to do with trade barriers and interruptions in the global trade of distillers grains that we're seeing."
Cooper says the U.S. is expected to produce 36-37 million metric tons of DDGS in the current marketing year, but one of the biggest trade disruptions in the market is being created by China's demand that shipments of distillers grains must be certified to be free of the MIR162 biotech corn trait. "That kind of certification is not possible," said Cooper. "So, we expect exports to China to be significantly curtailed or even halted until this situation is resolved."
Last year, half of the U.S. distillers grains exports went to China, but Cooper says there are other countries increasing imports. "We are seeing continued growth of distillers grains exports to other parts of Asia outside of China," he said, adding that Mexico is increasing imports and countries such as Egypt and Turkey are also growing markets. Interview with RFA Senior VP Geoff Cooper at 2014 Export Exchange