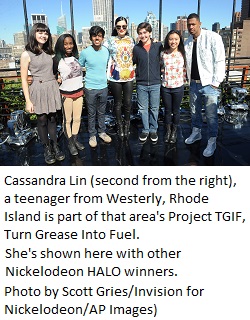 It's no secret that we think the folks who make biodiesel are angels, but one actually now will get her own HALO! Cassandra Lin, a teenager from Westerly, Rhode Island is part of that area's Project TGIF, Turn Grease Into Fuel, a student-led project where restaurants and residents recycle their waste cooking oil, it gets turned into biodiesel and is donated to charity to support families who require heating assistance. She'll be honored by the kids' TV network Nickelodeon with one of its HALO – Helping and Leading Others – awards. The star-studded musical event is being held in New York City and showing across all Nickelodeon networks, streaming on the Nick.com website and the Nick app on Sunday, Nov. 30, at 7 p.m. (ET/PT).
"We're taking over New York City with the hottest music performers and the most awe-inspiring kids for one huge fun night at this year's Nickelodeon HALO Awards," said [pop music star Nick] Cannon. "The HALO Awards embodies the altruistic spirit of the holidays with its positive message and I can't wait to celebrate the terrific work of these young heroes."
If you live in Rhode Island, Project TGIF has more information about drop-off locations and details on its website.