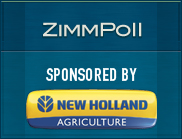 Our latest ZimmPoll asked the question, "Are you ready for MyFarmRadio on your mobile device?"
Don't worry if you are part of the majority and have never heard of MyFarmRadio. We won't accuse you of living under a rock just yet, because it is still very new. On November 3rd the new platform MyFarmRadio will launch. The 24/7 digital mobile radio channel will focus on a mix of best-in-class news, weather and markets along with entertaining and informative conversation for America's farmers and ranchers. The app will allow listeners to pick and choose what they want to hear – and when they want to hear it.
Here are the poll results:
Yes, plan to get the app – 22%
Yes, want to know more – 17%
No, only listen on my radio – 6%
No, get my farm news other ways – 22%
What's MyFarmRadio? – 33%
Our new ZimmPoll is now live and asks the question, Has the uncertainty for the RFS caused by the EPA hurt your community?
The Renewable Fuel Standard (RFS) has been facing more than a year of uncertainty as the biofuels industry waits for the final 2014 rule that will determine the final renewable fuel volumes. Renewable fuel categories include ethanol, biodiesel, cellulosic and advanced biofuels. What impact has this had on your community?