Ecotech Institute has released a series of free energy ebooks detailing how to begin a career in wind or solar energy. The guides cover issues from a day in the life of a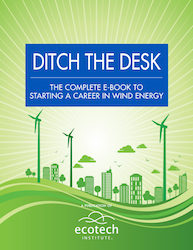 renewable energy technician to potential salaries to required skills and advice form current professionals working in the solar and wind industries.
The wind and solar energy renewable energy industries continue to do well, but according to Ecotech Institute that doesn't mean getting a green job is easy. The jobs take specialized training, cleantech industry knowledge and passion is a plus.
Future solar and wind technicians have one place to access vital information, including:
Key industry facts about the renewable energy sector;
Tips for job seekers in the energy efficiency field;
Expectations and requirements for wind and solar energy green jobs;
Cleantech employment trends;
And advice from working industry experts and technicians.
Learn everything there is to know about "ditching the desk" and landing a green job in the wind or solar industry by downloading the free Wind and Solar Energy eBooks here.
Ecotech Institute is the first and only school in the U.S. that is solely dedicated to sustainable energy. The school currently offers eight associate's degree programs, including hands-on training for wind and solar energy technology: