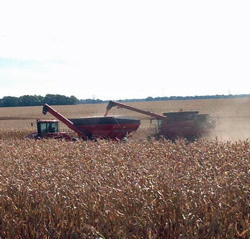 The harvest may be running a little slow right now, but the latest report from USDA's National Agricultural Statistics Service is calling for a bit more corn than expected a month ago, adding to the already record forecasts.
Corn production is now forecast at 14.5 billion bushels, up almost one percent from the previous forecast and four percent more than last year. Corn yields are expected to average 174.2 bushels per acre, up 2.5 bushels from the September forecast and 15.4 bushels above the 2013 average.
The bigger crop mean lower prices and USDA's latest World Agricultural Supply Demand Estimate also released today. Corn supplies for 2014/15 are now projected at 15,736 million bushels, up 129 million from last month, while season average prices were lowered 10 cents to $3.10 to $3.70 per bushel. Corn used to produce ethanol, distiller's grains and other co-products is projected at 5.125 billion bushels, while corn consumption for feed is estimated at 5.375 billion bushels.