Ethanol safety has been shared with the Canadians. The Renewable Fuels Association (RFA) met with Transport Canada's Emergency Response Action Plan (ERAP) Task Force to educated them on emergency preparedness.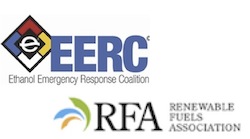 RFA's Vice President of Technical Services, Kristy Moore, spoke remotely to Transport Canada's ERAP Task Force and detailed current RFA safety initiatives, outlined transportation methods available for ethanol distribution specifically focusing on rail, and delivered an overview of the U.S. ethanol industry.
"A solid emergency response program is vital to everyone — no matter the country — and I applaud Transport Canada for having the foresight to get ahead of the game and formulate a national emergency response program," said Moore. "We are excited to begin working with them to translate RFA safety materials into French and help them develop an ethanol safety seminar program similar to the very successful RFA program here in the States."
RFA has been involved in ethanol education around transportation safety and emergency response for many years. The Association is a founding member of the Ethanol Emergency Response Coalition (EERC) and joined TRANSCAER — a transportation safety initiative that focuses on community emergency response — in 2007. RFA worked with the EERC to establish an ethanol safety seminar program that goes around the country educating local firefighters and first responders on the best way to respond to a potential emergency situation. The seminars utilize the RFA's "Training Guide to Ethanol Emergency Response". Nearly 150 safety seminars have been held in 27 states.