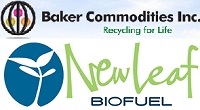 A renderer and recycler has acquired a controlling interest in a Southern California biodiesel operation that turns fats and oils into the green fuel. This article posted on Feedstocks.com says Baker Commodities, Inc., which has been a long-time supplier of fats and oils to the biodiesel industry, now controls San Diego-based New Leaf Biofuel, and the move will allow Baker to expand into other markets that vertically integrate with its rendering operations.
"We are excited to have New Leaf Biofuel as a division that will continue the recycling of fats and oils into an environmentally clean and sustainable fuel for all Californians to use," said Jim Andreoli, Jr, Co-President, Baker Commodities. "As renderers, we in the industry have been recycling fats and proteins for hundreds of years, and to be able to use these materials to further support our society's needs is a natural fit for our rendering business."
Since 2006, New Leaf Biofuel has been converting used cooking oil into ultra-low carbon biodiesel, which is used in commercial and municipal fleets throughout California. New Leaf Biofuel President Jennifer Case and her husband Tyler Case, Vice President of Operations, are excited to work with Baker as the general operators of New Leaf Biofuel. "We couldn't be happier about becoming part of Baker Commodities," said Case. "We are both family-owned businesses and share very similar philosophies and corporate sustainability goals. We're excited to help the company in its future growth."
Baker has been rendering and removing grease since 1937.