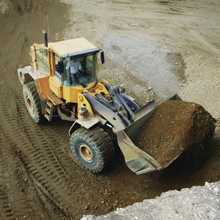 More use of biodiesel in heavy machinery, such as construction and agricultural equipment, means operators need to pay more attention to what kind of seals they use in the machines. This news release from Freudenberg-NOK Sealing Technologies says that those engine and transmission seals need to be made of validated elastomeric materials that withstand unique operating conditions or they will prematurely fail.
"As the large earth moving equipment and other heavy machinery becomes cleaner by using biodiesel fuels, manufacturers are going to experience more motor oil contamination in their engines from this fuel," [Joseph Walker, global director, Advanced Materials Development for Freudenberg-NOK Sealing Technologies] said. "Biodiesel fuels have a much higher boiling point and the fuel is miscible with the engine oil. This means more fuel remains in the oil during use and this diluted oil mixture impacts engine and component operation."
While industry studies that examine the impact of oil-fuel dilution on lubricants exist, this is the first time a company has undertaken efforts to understand how oil-fuel dilution affects sealing elements, he noted.
"This comprehensive study was designed to close that gap," Walker said. "We realized that if we understood how these biodiesel fuel oil mixtures impacted elastomeric materials on a molecular level, we could determine which ones would perform best and longest for our customers and require the fewest seal replacements. And the dilution of the engine oil with biodiesel fuel does have pronounced effects on both lubricant and seal life."
Freudenberg-NOK officials also note that the issue can be more pronounced in the construction industry where heavy machinery is being constantly leased and operated for long periods between maintenance cycles.
Walker will present his company's finding's at today's SAE 2014 Commercial Vehicle Engineering Congress (COMVEC) in Rosemont, Ill.